Knowledge saves lives
The more aware you are of mental health, the better you will be able to take care of both yourself and people around you. Better knowledge of the subject results in reducing existing prejudices and creating acceptance and openness.
Never Alone – The book
Every six hours, someone in Sweden commits suicide. These are human tragedies, which in many cases could have been prevented. Never Alone is the book that breaks the silence about mental illness and opens up conversation about this taboo topic. Everyone suffers from mental illness at some point, yet no one dares to talk about it. We have to start talking about it!
Nobody should have to live with mental illness in secret. With the book Never Alone, Charlie Eriksson wants to break the ice so that more people dare to seek help. This book needs to be in every home in Sweden.
The Book
"Unfortunately, we don't think he'll survive"
It's a beautiful fall evening at the end of September 2013. Charlie's body is on a cold stretcher in the intensive care unit at the county hospital in Kalmar. His parents have just received the call from the doctor, a call that nobody wants to receive — a call where they say that their son will die.
A few hours earlier, Charlie had a severe panic anxiety attack and strong suicidal thoughts. In the moment of confusion, he takes an overdose of painkillers and sedatives to get rid of the anxiety, to feel calm, perhaps also to die. Charlie is an ordinary, healthy 22-year-old who wants to stop living and leave his parents, brothers, relatives, friends, classmates and teammates forever.
In Never Alone, entrepreneur Charlie Eriksson, 25, talks about his own journey and the experiences of mental illness he shares with many other young people. The aim of the book, the project Never Alone and his talks, is to break the silence and get more people to seek help in time.
Information
Author: Charlie Eriksson, Ullakarin Nyberg and Peder Björling
Language: Swedish
Number of pages: 152
Designer: Renée Lundvall
Publisher: Lava Förlag
ISBN: 9789188529183
Published: 2017-08
Edition: 1
Weight: 380 g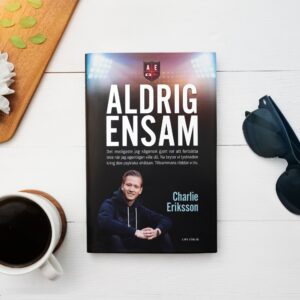 Robert Karlsson – 100 days
Alla har säkert känt en vilja att utveckla eller ändra något i sitt liv och också upptäckt hur svårt det kan vara. Det finns många anledningar till det. En av dem är brist på motivation, en annan är att målet är otydligt. Den här boken är till för dig som vill satsa mot ett specifikt mål och kan behöva hjälp med att strukturera upp det hela från start. Den första tiden i en ny satsning är helt avgörande oavsett om målet är OS-guld eller förändra något i vardagslivet.
The Book
Hundra dagar fokuserar på att sätta ett mål som man vill uppnå på just 100 dagar. För att genomföra målet erhålls enkla och effektiva frågor som ska besvaras dagligen, morgon som kväll. De hundra dagarna är uppdelade i femton veckoetapper där varje vecka har ett nytt fokusområde. Varje veckas fokusområde startar med en historia ur golfspelarens Robert Karlssons liv där han delar med sig av sina lärdomar och erfarenheter från sina drygt 30 år på världens golftourer.
"Även om jag har upplevt stora framgångar i mitt liv så har jag haft perioder då jag kämpat något kolossalt med mig själv och med mitt golfspel. Under min senaste svacka upptäckte jag att jag hade börjat tänka kortsiktigt och resultatinriktat istället för att vägledas av långsiktiga visioner. Det var så den här dagboken föddes. Jag ville skapa en tydlighet för mig själv, så jag satte upp ett mål och gav mig hundra dagar att uppnå det. Faktum är att jag inte nådde riktigt fram och dit jag ville. Vad jag däremot lyckades med var att komma en bra bit på vägen, få större självinsikt och perspektiv. Under de hundra dagarna lärde jag mig enormt mycket om mig själv." – Robert Karlsson
Information
Author: Robert Karlsson
Language: Svenska
Number of pages: 335
Designer: Åsa Hjertstrand Brensén
Publisher: Lava Förlag
ISBN: 9789188529152
Published: 2017-08
Edition: 1
Weight: 826 g